Stadium

District
Let's Get Real, Tacoma
What I Like Best: Stadium is home to some incredible historic homes and beautiful streets. That being said, it's a lovely place to walk around and even running those day-to-day errands can be an enjoyable experience. Some of my favorite beautiful streets are North Yakima, North Tacoma and North Stadium Way!
What I Like Least: It can get expensive, but honestly, I can't think of anything bad to say about it. One of the most beautiful historic neighborhoods in Tacoma for sure!
Living in
Stadium

District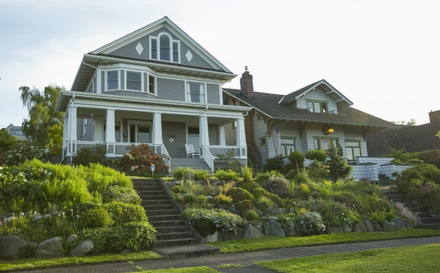 The Stadium District is named for Stadium High School, which is probably one of the most beautiful high schools in the history of the world (and was the filming location for 10 Things I Hate About You)! The unique building was originally built in 1891 with the intention of it being a French château-inspired hotel, but eventually it turned into a high school in 1906. The area that built up around it is packed with history, unique streets with character and a story around every turn.
Stadium District is super close to Downtown Tacoma, and that means easy access to nightlife, museums and an eclectic variety of entertainment options. Stadium is also just generally home to lots of family-owned businesses and services that make living there so convenient.
It's a beautiful neighborhood for walkers, with lots of tree lines streets and beautiful historic home to look at.
Favorite Community Events
Each summer, several businesses in the area participate in the Stadium Art & Wine Walk. This is a day that's all about tasting new wines and taking in an eclectic selection of art all while relaxing and enjoying the neighborhood's historic architecture, charm and diversity.
Enjoying Local Flavor
Restaurants: I really, really recommend visiting Art House Cafe. They serve breakfast, lunch and dinner and even have a baked goods, coffee and wine offerings. Breakfast is my favorite time there! Shake Shake Shake is also a fantastic spot to check out if you love classic burgers, hot dogs and unique milkshakes that hit the spot. A retro burger joint opened in 2013, Shake Shake Shake's 1940s-inspired interior and upbeat vibe is perfect for going out with friends and family. I also love Gibson's Yogurt! Amazing froyo in a dozen flavors with tons of topping options.
Nearby neighborhoods:
Tacoma's Old Town Neighborhood