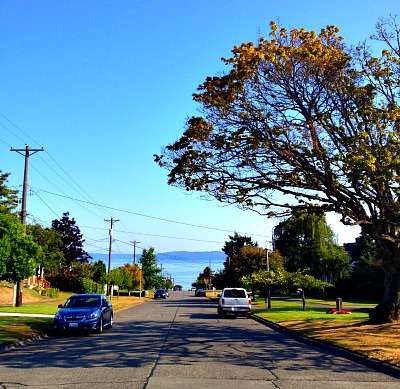 Tacoma's first Neighborhood, and still one of it's fanciest and most pictureque.  Legend has it that when the original Tacoma settler Job Carr arrived and saw the spectacular view in 1865, he supposedly shouted "Eureka! This is freakin' rad!" (Well, maybe I made that last part up). Regardless, he headed off to Olympia to stake his claim because Job was (rightly!) sure that the land would be worth something someday, since Tacoma had been chosen as the Terminus of the TransAtlantic Railroad. Old Town Tacoma was originally a separate community from what we now call Downtown Tacoma. Back then they called Downtown Tacoma "New Tacoma."
Let's Get Real, Tacoma
What I Like Best: Old Town Tacoma is home to some incredible views, including Commencement Bay and the always gorgeous Mt. Rainier.
What I Like Least: This area is historically the most expensive neighborhood in Tacoma (even though I do believe that what you get is well worth the price!).
Living in Old Town
Old Town is really where Tacoma started, and this area has such a strong sense of history and community. Its close proximity to the Tacoma waterfront and Ruston way make it especially an ideal place in the spring and summertime, and it's a lovely spot to take a walk while enjoying the scenic Puget Sound. There are also lots of options if you're looking to grab dinner or a drink, whether on the waterfront or not!
Favorite Community Events
Every year the community hosts the Tacoma Old Town Rhythm and Blues Festival in July, which is a swingin' weekend of music, food and beer gardens in the Old Town Park.

The Tacoma Freedom Fair on the 4th of July is also in Old Town along the Ruston Way waterfront. It's a pretty big event— there's an international food court, music, an awesome air show, car show and of course a firework show! Pretty much anyone who lives in this area becomes very popular with their friends, who will all want to be sitting on their decks and lawns to watch the Freedom Fair's incredible fireworks display on Commencement Bay.
Enjoying Local Flavor
Restaurants: Harbor Lights is a top favorite for me. If it was good enough for your granddad, it's good enough for you! It's a great waterfront spot to get some delicious seafood and a stiff drink. Established in 1959, Harbor Lights has a prime waterfront spot that overlooks Commencement Bay.   Duke's Chowder House is also a local favorite. Right on the water, this place serves up award-winning chowder and takes pride in their fresh, all natural ingredients.
Coffee Shops: Treos is locally owned and is a perfect spot to stop for a fresh cup of coffee before or after a walk on Ruston Way. Not only do they roast their own Fair Trade coffee, but they also serve up a selection of local pastries, sandwiches, craft beer and wine. Of course there's also a Starbucks and The Spar has a coffee shop as well. People in Old town have choices when it comes to coffee!