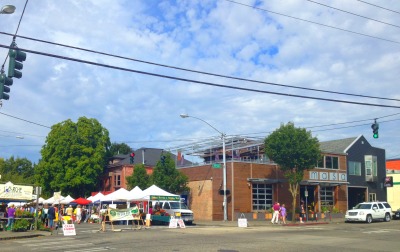 The Majority of homes in the 6th Avenue Neighborhood of Tacoma are older houses, but recently neighborhoods of new condos and townhouses have started to spring up in places. The proximity to 6th Avenue's coffee shops, nightlife, and fabulous restaurants is appealing to those who like a vibrant and walkable neighborhood that is affordable and lively. The neighborhood has so much to offer! 6th Ave is the historic dividing line between north and south in Tacoma (though the south side of 6th is Central Tacoma, not South Tacoma).  It's close to the University of Puget Sound so it has a college town feel. Here are some of my favorite places along 6th Ave:
Let's Get Real, Tacoma
What I Like Best: The 6th Ave neighborhood is the most thriving business district in Tacoma. They have everything from vintage clothing shops, cafes, great restaurants and a swinging nightlife and bar scene.
What I Like Least: As 6th is pretty close to the University of Puget Sound, this can mean that 6th Ave can get pretty crazy on weekend nights. If you live in a house within a block of 6th, you may or may not experience people drunkenly stumbling into your front yard, but hey— it's a small price to pay to live there! And what's wrong with a little excitement every now and again…
Living on 6th Ave
Definitely one of the best things about living here is the area's walkability. I think it's so nice to not have to get in your car and drive somewhere every time you just want to grab a coffee or a bite to eat with friends. There are so many things to do— you could easily spend a day just exploring all of the shops, restaurants and bars around here. There's something for people of all ages and tastes along 6th Ave, and it's generally just a very lively place to be.
Favorite Community Events
Art on the Ave: Every summer, 6th Ave shuts down the street to host Art on the Ave, an awesome festival that's all about art and music. There are tons of live art demonstrations, and the famous Tacomopoly game (life-size Monopoly!).

6th Ave Farmers' Market: In the spring and summer months there's a Farmers' Market on 6th Ave every Tuesday. It's a convenient way to get some fresh food and support local businesses!
Enjoying Local Flavor
Coffee Shops: The very best coffee in Tacoma is served and roasted right in Valhalla on 6th, and it's the perfect local place to stock up on coffee beans too. Metronome is also a favorite locally owned coffee shop and has a modern, trendy atmosphere, perfect for studying or having meetings at. They source their coffee from Victrola roasters in Seattle and have a yummy selection of local pastries, unique flavorings (rose, butter rum, violet, etc.) for their lattes and even have beer on tap and a small wine selection. Bluebeard on 6th is another trendy spot for grabbing a cup of strong local coffee while enjoying their cool, lofty space.
Restaurants: Marrow is one of my very favorite spots in Tacoma and they are creating some of the most innovative food in the area right now. They have lots of vegetarian food options and are dedicated to serving locally sourced fresh food to fill their ever-changing seasonal menus. Marrow's attentive service is also of note. As for an amazing happy hour, Masa certainly stands out as a fun Mexican food option! My personal favorite menu item? Prawn tacos for $5.99! If it's summertime, there is nowhere on 6th Ave anyone would rather be than on their rooftop deck! Across the street is Asado, which is a bit of a nicer option for a special night out and it's even been voted Best Latin American Restaurant in Evening Magazine's 'Best of Western Washington' three years in a row. Also, I have to mention Primo Grill, a 6th Ave staple— they consistently serve up delicious Mediterranean cuisine. For some Asian eats, I highly recommend Silk Thai (they have a mouthwatering selection of flavorful Thai food with beautiful, classy Thai-inspired decor) and Sushi Tama (it's a small little joint but their sushi is very well done and very reasonably priced).
Nightlife: Ok, it has to be said:  6th Ave is right next to a university, so the nightlife is often the type of nightlife you would expect based on that fact alone. But that being said, there is still something for everyone. Jazzbones has bands, Masa has a line out the door and dancing inside,

Engine House 9 is not only housed in an old fire station built over 100 years ago, but they're also a brewery and serve up their original craft beers along with a huge selection of  tap beers. They have a unique atmosphere (as you can imagine, since it's in an old fire house) and a lively, laid back crowd. (Plus, they even have karaoke sometimes if you're in the mood.) For a louder more party-like atmosphere, Jazzbones is a nightclub that features tons of live bands and entertainment. And if you want to experience more of a club scene, Masa has a bar and a dance floor if you're feeling brave.