Have you seen my new website, MoveToTacoma.com? I'm super excited about it. I started this blog in 2008 as a way to blog about Tacoma Real Estate in an honest way. Over the past year or so I've recognized the need to make a site that was a bit less about me and my viewpoint and a little more focussed on helping people from outside of Tacoma decide where in Tacoma they should move to.
This website is not going anywhere. I will still be blogging about my point of view on Tacoma real estate stuff, my favorite houses and condos, and advice about real estate here. I just recognized the need in our community for something that was more focussed on life beyond real estate.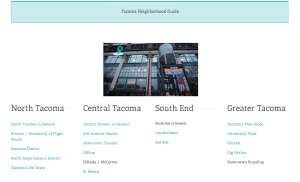 Tacoma Area Neighborhood Guide
One of the things I'm most excited about with the site is the neighborhood guide. The Tacoma Neighborhood Guide is still under construction. There are still neighborhood pages being filled in, a clickable neighborhood map (so excited about that one!) to be completed, and many more neighborhoods to be added. That said, even in it's current form, it provides a lot of useful information to people considering moving to Tacoma who are wondering what neighborhood is right for them.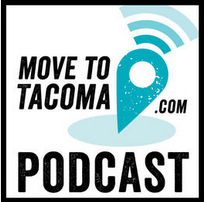 Move To Tacoma Podcast
I've always wanted to do a podcast. Honestly, when I first got the idea of doing an podcast for MovetoTacoma.com I thought it would be something I would do a few episodes for for fun (to help launch the site) and then I would move on. But so far in the first month we have over 1000 downloads! ONE THOUSAND! Tacomans sure love their local podcasts! I've been so encouraged by this I'm going to keep making them. It's so great to hear from so many different types of people- from business owners to the mayor of Tacoma about what is happening, what we can do better, and what the future looks like in the City of Destiny.
Finding a good rental in Tacoma can be tricky! There's no centralized place where they're all listed, and real estate agents generally only work with buyers and sellers in Tacoma. There is a need to improve this of course, but in the meantime I wanted to create a useful guide for people who are looking for rentals in Tacoma where they could find cool places.
Hopefully you love the new site and find it useful!