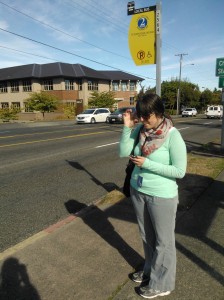 So here's the thing. I LOVE public transportation. I lived in Italy in 1995 as a 16 year old and it was formative- I learned to love trams, trains, and all that good stuff. I say this only to stress that I am NOT unfamiliar with public transport as a concept… but here in Tacoma? Though I take the link a couple of times a month an take the 594 to Seattle once or twice a year I harbor a dirty secret- I actually wasn't sure how to ride the bus.
Enter Kristina Walker of Downtown On the Go! Kristina is passionate about biking, bus riding, and alternate transportation and contacted me to challenge me to take the bus this month. Now as a real estate agent, I can't exactly show houses from the Bus- but let's face it- there are plenty of days when I drive to the office to work for 3 hours before driving back downtown for an appointment. Or I drive to Metronome to work or meet people. Confession: I routinely drive 1.5 miles to Ruston Way to walk. I know. The shame.
Kristina met me at Amocat Cafe and showed me how the Orca card works. Then we downloaded the One Bus Away app and she showed me how to choose routes, save my favorite buses, and figure out which routes are most convenient. I've tried to use One Bus Away before in Seattle but I could never figure it out- she helped me get the app set to work for me! I was really nervous about how LONG it would take to get places, but in the end, the walk to the Bus Stop and ride to the office is only about 10 minutes more than driving, and the stop is right there. I'm excited to try it some more. The bus was clean and people were nice. I'm going to try to take the bus to Old Town, Pt. Defiance, and if I get ambitious…TO LAKEWOOD.
It's an exciting experiment. I mean really, if a Realtor can find a way to ride the bus anyone can, right? If you're interested in learning in lessons on how to ride the bus, contact Downtown on the Go! They do it on the regular.