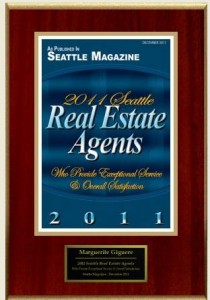 Have you ever read the book, "The 5 Love Languages?" In it, the author talks about how we all receive love in different ways. Some people like gifts. Some people like you to do stuff for them.  For me, my love language is WORDS OF AFFIRMATION.  Tell me you like me and I'm doing a good job for you and there I will go to the ends of the earth to make you happy. And by you, I mean my #1 Clients of course!
Today I got notice that I received the Seattle Magazine 5 Star Real Estate Agent award for "exceptional service" and "overall satisfaction."  I'm super pleased, this is my 3rd year in a row receiving the award and since it comes from an independent survey of my past clients it makes me feel really good.
2012 has been the year of Affirmation for me. Between this, the Sexiest Realtor Award, and the Tacoma Komo Best Real Estate agent award I am swimming in affirmation.  I feel so lucky and it makes me want to work harder to deserve it.   Thanks #1 clients, I am feeling the love!