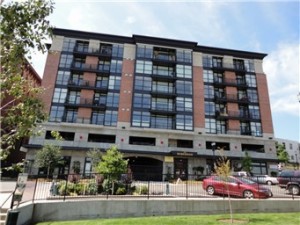 I was out looking at condos this weekend and was SHOCKED to see a 1 bedroom unit at The Roberson listed for $199,000.  Since 1 bedrooms in that building are listed above $300,000 I was understandably confused, until I saw that it was a foreclosure.
Boeing Employees Credit Union is the bank that owns the unit, and they are offering to finance it with a 30 Year Fixed Mortgage at 3.99% with 5% down.  Of course you have to be approved by their underwriters, but that is a pretty good deal if you can get it.
The unit has been on the market for 126 days.  It's smallish, at 693 square feet- but it is sporting a fantastic view of the city and bay from the living room, bedroom, and kitchen.  It has lots of other goodies like a gas stove, custom built in bookshelves, a fireplace, and a big deck.  The Roberson itself is a beautiful building, and this would be the most affordable place to ever sell there.  This is also located in my very favorite part of Tacoma, the St. Helens District and is very convenient to The Mix, Amocat Cafe, The Grand Cinema, and Puget Sound Pizza.
Anyways, just wanted to share this interesting bank owned deal with you all.  So if you're out looking, tell your agent to take you here and check it out or feel free to contact me if you're interested!