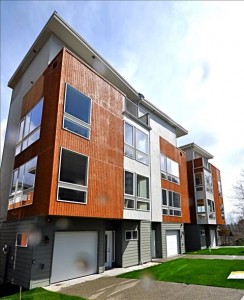 Ok, so I mentioned a few posts ago that I am going to be working as the site agent for Element 20 Townhouses for the next few months. What it means to be a site agent is that you hold open houses and help people who wander in through open houses learn about the property and make offers if they want to. If people come in with agents, I work with the agents to get them any information they need for their clients to decide whether they want to make an offer.
Mostly it just means weekly open houses and answering a lot of phone calls. I used to do a lot of site work back in the day, but in the down market it just hasn't seemed worth it. I'm making an exception for Element 20 because I think it's a good little neighborhood with a lot going for it.  The biggest advantage is that they are airspace townhomes, not condos (like City Steps, for example).  This means that all of that headache and drama about financing I've been writing so much about is irrelevant. They can go FHA, VA, Conventional, whatever.  You can live there or buy it as a rental investment without having to go to your condo board for permission.  There are some minimal monthly dues for maintaining the small amount of common landscaping, but if you factor in the 10 year property tax abatement you're still way ahead.
Much has changed since the heady days of 2008 when the original Element 20 on the market announcement hit Exit133.com.  Back then, 2 bedrooms were slated to list for $389k and 3 bedrooms were listed at $429k.  Yeah. I know.
Well, things have changed.  The development is now owned by the bank who is working with a builder to build the remaining 6 townhouses.  I'll be holding an open house this Saturday from Noon-4pm.  I'd love to have visitors come down and tell me what they think of the floorplans and the new prices- $175k for 2 bedrooms 2.5 bathroom townhouse and $242k for 3 bedroom 3.5 baths. Really, come visit.