If you are looking for gay bars in Tacoma you may be pleasantly surprised by the number of gay bars we have in the City of Destiny.  The up and coming St. Helens Neighborhood downtown is home to two gay bars in close proximity- The Mix and Club Silverstone.  Metro Gruv is about a mile away on 6th Avenue near Puget Sound University and the Hoppin' 6th Avenue Scene, and out on 56th and South Tacoma Way is The Airport Tavern.  All of these bars have a different vibe to them, so here are the details and my take on each one.
MetroGruv – 3829 6th Avenue, Tacoma 253-761-1550
The new kid on the block, MetroGruv is trying really hard to win your business with lots of fun creative offerings.  "We have an amazing space that accommodates 2 private vip rooms w/karaoke, a stage and a dance/dining floor, a lounge area, a beautiful bar area, and another smaller dining area with free pool everyday!" says Chris, MetroGruv's Bar Manager. Their unique combination of live music, karaoke, and dance floor makes great use of the club's huge space. Don't miss the daily happy hour and the $5 pan-asian appetizers from 5pm-9pm!
The Mix – 635 St. Helens Avenue, Tacoma 253-383-4327
Billed as "Tacoma's Favorite Gay Bar" The Mix is certainly MY favorite bar in Tacoma, period- and Tacoma has a lot of cool bars.  I lived above this bar for a couple of years and I can tell you, there is always a party going on there.  The bar is small, with an upstairs area with a bar where they play dance music.  There's a mid-level with tables, and the lower level has a pool table, dance floor, and karaoke Thursday-Sunday starting at 9pm.  They're big participants in neighborhood events like Tacoma Pride and the Downtown Tacoma Block party, sponsoring generously and even opening up a beer garden.  The Mix is kind of like my cheers.  I love them.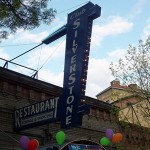 Club Silverstone -739 1/2 Saint Helens Avenue Tacoma 253-404-0273
In my opinion, the Silverstone has the best dance floor in Downtown Tacoma. Is this even a question? Is this even a debate?  With a live DJ after 9pm Friday and Saturday night, my strategy is to show up after 10pm to get my groove on. There's usually a little cover, like $2, but that is  a small price to pay for access to the great dance floor and SERIOUSLY CHEAP DRINKS.  They have karaoke Sunday, Wednesday, and Thursday starting at 9pm and free pool Tuesdays and Thursdays.
The Airport Tavern 5406 South Tacoma Way 253-475-9730
The Airport is old school with a lotta heart. There's "Le Sparkle" billed as "Tacoma's Premier Female Impersonation Revue" on the First and Third Sundays of the month at 8:30pm.  On Thursdays "Kocktails with Katrina" features performances by Vivian LeCher, Aphelia Bottom, and Toby Chase with $1 Jello shots and No Cover.
I hope that if you are new to Tacoma my review of Tacoma's Gay Bars was helpful. If you decide you like it here and want to stick around and buy a house or a condo, feel free to get in touch!