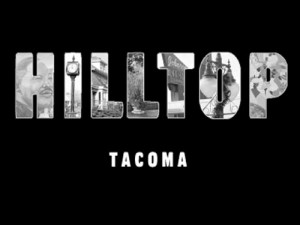 The language Realtors use for marketing a house is sort of legendary.  If a house is small it is, "Quaint" or "Charming."  If a house is a dump it's a "Fixer Upper" or "Needs Tender Loving Care."  I've never been one to hate  on this aspect of my profession because Realtors are MARKETERS. When we represent the seller it is our job to see the best in a house and show it off to it's best advantage.  That said, I have a bone to pick with a recent trend I've noticed in Real Estate Marketing- and that is flat out trying to confuse people about where the house is when the house is located in Hilltop.
When a house is located in Hilltop, some agents (who don't understand that this is not the 80's and the neighborhood sells itself) will try to say the house is in "New Tacoma" or "Upper Tacoma" or "Central Tacoma."  This is RIDICULOUS.
First of all, if someone has decided for whatever reason they don't want to live in Hilltop, you calling it "Upper Tacoma" is not going to change their minds.  Second, for those of us who've lived in HIlltop, who love Hilltop, who appreciate it's historic character, New York Times Reviewed Neighborhood Bars, and affordability, it is CONFUSING.  I'm not trying to gush or romanticize- but changing your marketing remarks to pretend it doesn't exist is UNCOOL.
Like every neighborhood I've ever lived in there are good and bad things about living in Hilltop.  I remember the best parts being how close I was to downtown and the freeway.  If you are a buyer looking for a mortgage payment that is under $1,000/month that is close to downtown, Hiltop is one of several fantastic choices in Tacoma.
Since this is a rant spawned by an actual "Upper Tacoma" reference today, I really don't have much of a plan for my ending of this post.  I should also say that I have lots of Realtor friends who get Hilltop. Tacoma Realtor Headquarters is even LOCATED in Hilltop.  My message to Realtors selling houses in Hilltop is educate yourself about the neighborhood. If you want to know more about Hilltop, check out this interview with Hilltop Blogger Amy Potter on the Tacoma Stories Blog or visit the Wikipedia Page.   Or call me.